Contact
MUNICH DENTAL CLINIC
565/107-108 Moo 10, South Pattaya Road
Nongprue Banglamung
Chonburi 20150
Thailand
Tel: 038 – 426 809 (Clinic)
Fax: 038 – 426 810
Mobil: 089 44 44 405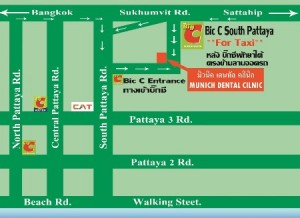 Dear Patient,
You can reach us in our office from Monday to Friday.
To receive our dental treatment please come by between 10:00 am and 6:00 pm.
An appointment is absolutely necessary, since we want to avoid long waiting times for you. Furthermore our doctors cannot be interrupted during long operations.
We are located on the street next to the parking area of the Big C Supercenter in South Pattaya.
If you are driving on South Pattaya Road, just a few hundred meters before Sukhumvit Road you will see a large green roadside billboard with "Big C" written on it. Just turn right and after 100 meters turn left; there you will find the Munich Dental Clinic.
If you are driving on Sukhumvit Road, just turn into South Pattaya Road and after a few hundred meters you will see the large Big C roadside billboard. Turn left and after 100 meters left again.
Are you interested in dental prosthesis or implants?
There are more ways open to you:
Contact us via E-Mail:
Just send a mail to info@travel-dental.com and tell us, what you need. If available send us a quote from your dentist too. We will answer all your questions immediately or fix an appointment.
Call the Munich Dental Clinic in Thailand or just come by:
Simply call 089 – 44 44 405 (Dr. Ramin) or 038 – 426 809 (Munich Dental Clinic) in Thailand to get further information or send a fax to 038 – 426 810. If you wish, we can arrange an appointment as well.
Call our German clinic in Munich:
Call the clinic of Dr. Ramin Yachkaschi (089 – 955 733) in Munich, Germany for detailed consultation.You can get further details under www.dr-yachkaschi.de.
If it is more comfortable for you, you can get consultation from Dr. Yachkaschi in Germany before starting your trip to Thailand. Especially when you need implants, it might be useful, that we examine first, what kind of implant will be suitable and how much time we need for the operation and following appointments.
It is also possible to have your operation done in Munich and to fix the crowns, bridges or prosthesis a few weeks or months later (depending on the needed time period for the healing process) in Thailand.
This option might be useful especially for tourists from Europe, who stay only a few weeks and can't or don't want to visit Thailand a second time within two or three months.
Important Notice:
Appointments for dental treatment can only be fixed by phone call to the Munich Dental Clinic in Thailand and not by E-mail or phone call in our clinic in Munich.